Description of ballpoint pen with light
This Ballpoint pen with light is no different from ordinary ballpoint pens, except that it has an LED light, and there is a circuit switch on the shell, and the light can be turned on as long as the switch is turned on. When writing in the dark, the writing area can be seen clearly without providing other light sources, and has a wide range of applications. This ballpoint pen has four colors (pictured), the pen body is made of high-quality plastic, smooth and colorful, non-toxic and tasteless. This Ballpoint pen with light has a wide range of practical scenarios. Construction, logistics, nursing staff, and police personnel often have the need to write in places with insufficient light. The launch of this product will bring them convenience.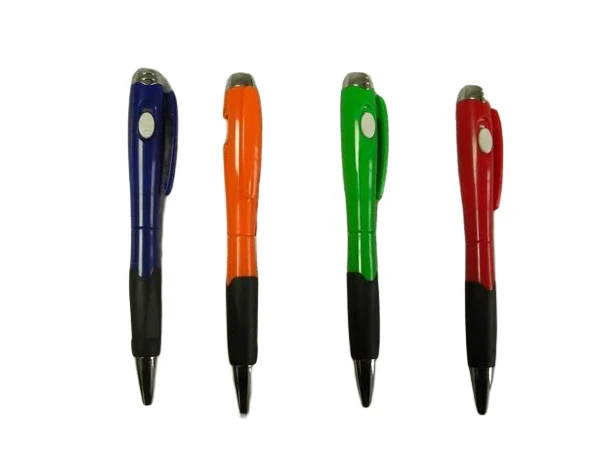 What is personalized custom?
Personalized customization means that customers can use corresponding solutions to customize their own products according to their own needs, making them unique. Personalized customization can meet the different needs of customers and enable customers to have a unique and personalized product. It can help companies better meet customer needs, thereby enhancing customer loyalty.
What are the benefits of Personalized custom Promotional product for business?
1. To meet customer needs: Personalized customized products can meet the individual needs of consumers, adjust production according to different needs, and better meet the actual needs of customers.
2. Enhance brand image: Personalized customized products can better demonstrate the innovation ability of enterprises, enhance brand image, leave a deeper impression on consumers, and enhance brand awareness.
3. Improve marketing effect: Personalized customization can allow consumers to have exclusive products, create a feeling of being recognized in consumers' hearts, and open up consumers' consumption psychology, thereby improving marketing effects.
4. Improve the competitiveness of enterprises: Personalized customized products can enable enterprises to create more value and better meet the needs of customers, thereby improving the competitiveness of enterprises and winning more market shares.
The color, material and pattern of our ballpoint pen with light can be customized according to customer requirements. Excellent quality and appearance will help customers enhance their corporate image, improve marketing effects and provide corporate competitiveness.
Supply ballpoint pen with light Personalized custom Promotional product
Our company specializes in designing, processing and producing various promotional products for customers. It can meet customers' Personalized custom requirements. The products we supply mainly include: ballpoint pens (Ballpoint pen with light, plastic pens, metal pens, Stylus Pens), non-woven bags, bottle openers, etc. We have a lot of products. If you don't find the product you need in our list, you can directly contact us to buy it offline. Since its establishment, the company has always adhered to the tenet of "creating first-class products, building first-class services, and creating first-class enterprises". Based on the management style of "pragmatic and realistic, sincere and honest", the company has won the recognition and support of more and more customers, and its products are exported to Canada, Europe, America, etc. We will take "first-class product quality, first-class work efficiency, first-class service reputation" as our business purpose, and provide customers with reliable, fast and satisfactory services. We warmly welcome calls, emails and visits from customers at home and abroad, and cooperate on the basis of equality and mutual benefit.