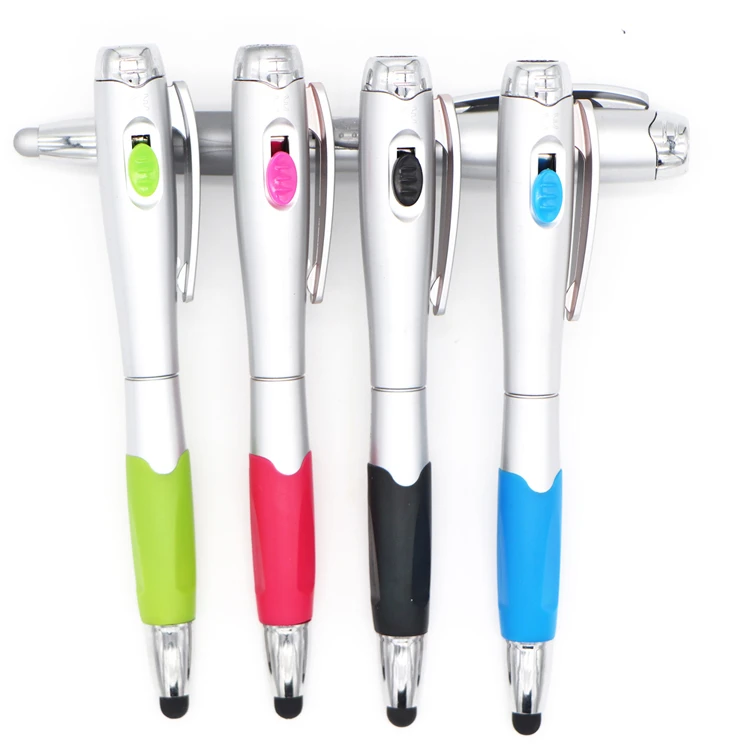 The lighted ballpoint pen and stylus is the perfect combination of functionality and convenience. These pens have grown in popularity in recent years for their versatility and usefulness. It has a very good effect on corporate advertising promotion. More and more companies are keen to customize this kind of stylus with light as a tool for gift promotion.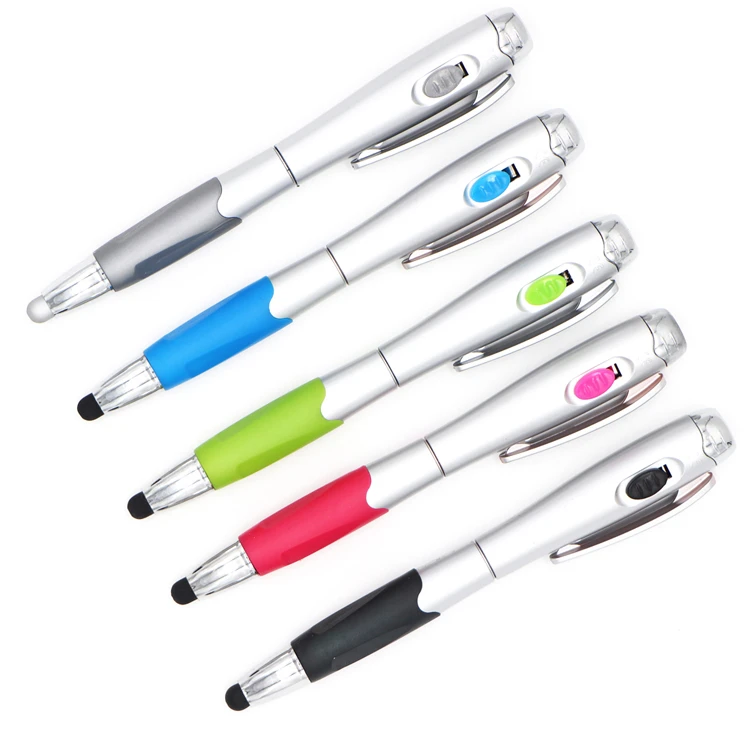 Features of ballpoint pen and stylus with light:
The most striking thing about these pens is their built-in light. The light is usually located at the top of the pen and can be turned on and off with a single click. This feature is especially useful for those who work in dimly lit environments or who need to take notes in the dark. The light helps to illuminate the area you are writing on, making it easier to see what you are writing.
Another great feature of these pens is the stylus. The stylus is on the other end of the ballpoint pen and is used on touchscreen devices. This feature is great for anyone who needs to take notes on an electronic device or needs to browse their phone or tablet. The stylus is also great for people who wear gloves or have long fingernails, as it allows them to use the device without taking off their gloves or using their fingernails.
Customized lighted ballpoint pens and stylus promotional features
Custom ballpoint pens with lights and stylus functions can be personalized with your company's logo, making them great promotional items for trade shows, conferences, and other events. They can also be used as corporate gifts for employees or giveaways to customers.
These pens are available in a variety of colors and designs so you can choose the one that best suits your brand. They are also available in different materials such as plastic, metal, and even bamboo, allowing you to choose sustainable and eco-friendly options.
Custom ballpoint pens with lights and stylus functions are an affordable and practical solution when promoting your brand. They are useful tools that your customers and employees will appreciate and use every day, increasing your brand's visibility and recognition.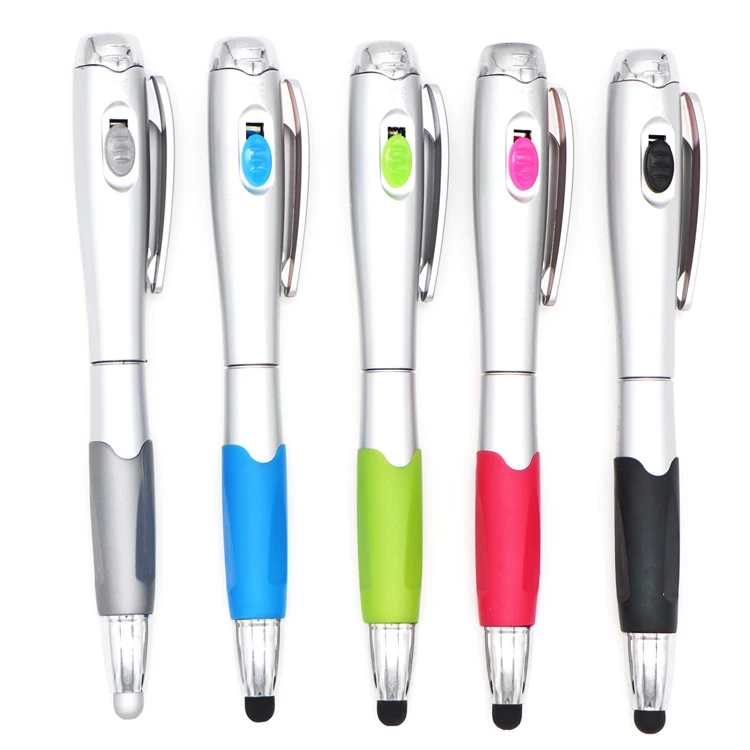 In conclusion, a custom ballpoint pen with light and stylus function is a versatile and useful promotional tool that can help your business stand out. With their customizable design and useful features, they are a great way to promote your brand and increase awareness
For example, the following application scenarios are very common.
Corporate Promotional Event: An automobile company held a promotional event to attract potential customers to their booth to learn about their models. As a promotional gift, they provided custom illuminated promotional pens with the company's logo and contact information. Participants received this gift along with a practical tool for checking vehicles at night or taking notes.

Nighttime event sponsorship: An outdoor product brand sponsored a nighttime mountaineering event. They provided each participant with a lighted promotional pen as a memento of the event. Participants can use these lighted promotional pens to illuminate the path while hiking, and they are also convenient for taking notes or marking maps.


Community safety promotion: In order to improve the safety awareness of community residents, the local police station distributed customized promotional pens with lights. These promotional pens feature the logo of the police department and emergency phone numbers. Residents can place these lighted promotional pens in their home, vehicle or key chain to use the flashlight function or make quick emergency calls in case of an emergency.


Business meeting accessories: A professional meeting planning company provides promotional pens with lights as accessories for business meetings. Compared to traditional pens, illuminated promotional pens can provide attendees with a better writing experience and provide additional convenience when lighting is required. This versatile design makes the lighted promotional pen a must-have tool for business meetings.

These examples demonstrate the diverse application scenarios of illuminated promotional pens, whether they are used as promotional gifts, event sponsorships or safety promotional tools, they can provide practicality and innovation, while highlighting brand image and promotional effect. The versatile nature of illuminated promotional pens makes them useful in a wide variety of industries and makes them a great and useful giveaway for attendees, participants or customers.