Custom Non-Woven Bags with Logo: Perfect for Take-Out Food
Introducing our range of Custom Non-Woven Bags with Logo, specially designed to enhance your take-out food services. These versatile and eco-friendly bags are the ideal solution for packaging and promoting your delicious meals while showcasing your brand with pride.
Key Features:
Durable Non-Woven Material: Crafted from high-quality non-woven fabric, these bags are sturdy, reusable, and environmentally friendly. They can withstand the weight of take-out containers and ensure safe transport.
Customizable Design: Personalize the bags with your restaurant's logo, name, contact information, and any other branding elements. This creates a lasting impression and promotes your business with every use.
Variety of Sizes: Choose from a range of sizes to accommodate different types of take-out orders, from single meals to family-sized portions.
Convenient Handles: Sturdy handles make carrying easy and comfortable, allowing your customers to transport their meals securely.
Eco-Friendly Choice: These bags are reusable, reducing single-use plastic waste and showcasing your commitment to sustainability.
Benefits of Custom Non-Woven Bags for Take-Out Food:
Branding: Your logo prominently displayed on the bags creates brand visibility and recognition, both during delivery and afterward.

Professional Image: Present your take-out food in stylish and branded packaging, elevating the overall presentation and customer experience.

Customer Appreciation: Reusable bags demonstrate your consideration for the environment and can enhance customer loyalty.

Marketing Tool: Your customers become walking billboards, carrying your logo around town and generating additional exposure.

Versatility: Perfect for various types of take-out food, including hot and cold dishes, beverages, and more.
Why Choose Custom Non-Woven Bags for Your Take-Out Food:
Practicality: These bags are designed to securely hold food containers, preventing spills and maintaining food quality.
Sustainability: Promote your eco-friendly values by offering reusable bags, aligning with the growing demand for environmentally conscious practices.
Brand Consistency: Maintain a consistent and professional brand image across your take-out services with customized packaging.
Positive Impact: Impress your customers with attention to detail, enhancing their overall dining experience.
Elevate your take-out food services with Custom Non-Woven Bags bearing your logo. Contact us today to discuss customization options, bulk orders, and how these bags can enhance your brand visibility while contributing to a greener future. Your take-out food deserves packaging that matches its quality and taste.
Save the environment and reduce plastic pollution
Today, the improvement of environmental awareness has made plastic pollution a global focus. According to statistics, about 8 million tons of plastic waste flows into the ocean every year around the world, posing a serious threat to marine ecology. In this context, our custom non-woven bags become an environmentally friendly choice for sustainable development.
Compared with traditional plastic bags, our non-woven bags have significant advantages. The average service life of an ordinary plastic bag is only about 20 minutes, and then it is discarded, and long-term accumulation becomes a source of environmental pollution. And our non-woven bags use high-quality materials and manufacturing processes, which have a longer service life, and a non-woven bag can be reused hundreds of times or even more.
Taking a medium-sized take-out restaurant as an example, an average of 200 plastic bags are used every day, and about 6,000 plastic bag wastes are generated every month. With our non-woven bags, only 200 bags need to be purchased, which can be used continuously for more than one year, greatly reducing the generation of waste. According to statistics, using our non-woven bags every year can save at least 6,000 plastic bags and reduce the generation of plastic waste by about 1.2 tons.
In addition, the environmental protection characteristics of non-woven bags are also reflected in their degradability. Under the right environmental conditions, non-woven materials will naturally degrade and will not cause long-term damage to soil and ecosystems like plastic bags. This means that, even if the non-woven bags end up being discarded, the environmental impact is significantly reduced.
Our custom food take-out non woven bags with logo are a sustainable and eco-friendly choice that can effectively reduce plastic pollution and waste generation. Choose our products, let us contribute to the protection of the earth, and at the same time bring more environmental advantages and economic benefits to your food delivery business.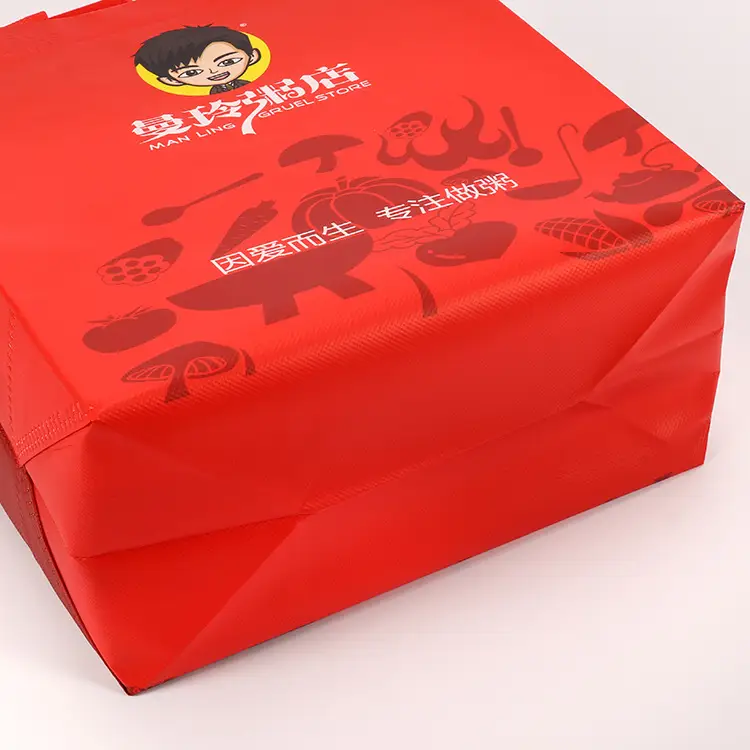 Personalized design, highlighting the brand image
Personalized design is one of the highlights of our custom take-out food non-woven bags with logo. According to our statistics, the presence of a brand logo on a product can significantly increase brand awareness and awareness. A study shows that consumers are more likely to remember and recognize products with a brand logo, which increases their propensity to buy products from that brand.
A newly opened take-out restaurant, after using our custom non-woven bags, the brand awareness increased rapidly. By subtly displaying the brand logo and store logo on the take-out bag, customers not only feel the attentive service when receiving the take-out food, but also have a deeper impression of the brand. These customers tend to be more willing to share their food delivery experience and spread the brand to more people.
Another chain brand's take-out restaurant also chose our custom non-woven bags, but they added more design elements to it. On the take-out bag, in addition to the eye-catching brand logo, there are also colorful patterns and brand stories. Such a design makes the take-out bag not only a packaging tool, but also a work of art with emotions and stories. Customers took photos and shared them one after another, which attracted more netizens' attention, and the brand's social media exposure increased significantly.
By customizing non-woven bags with logo, more than 75% of our customers have achieved significant improvement in brand image and market competitiveness. The personalized design makes the take-out bag a mobile advertisement of the brand. With the delivery of take-out food, the brand influence spreads to more potential customers, which promotes the continuous growth of the business.
Our custom take-out food non-woven bags with logo offer the opportunity of personalized design, making your brand image unique in the market and attracting more attention. Whether you are a newly opened take-out restaurant or an established chain brand, choosing custom non-woven bags will be an effective strategy for your brand promotion and market competition. Let us work together to bring more success and brand recognition to your food delivery business.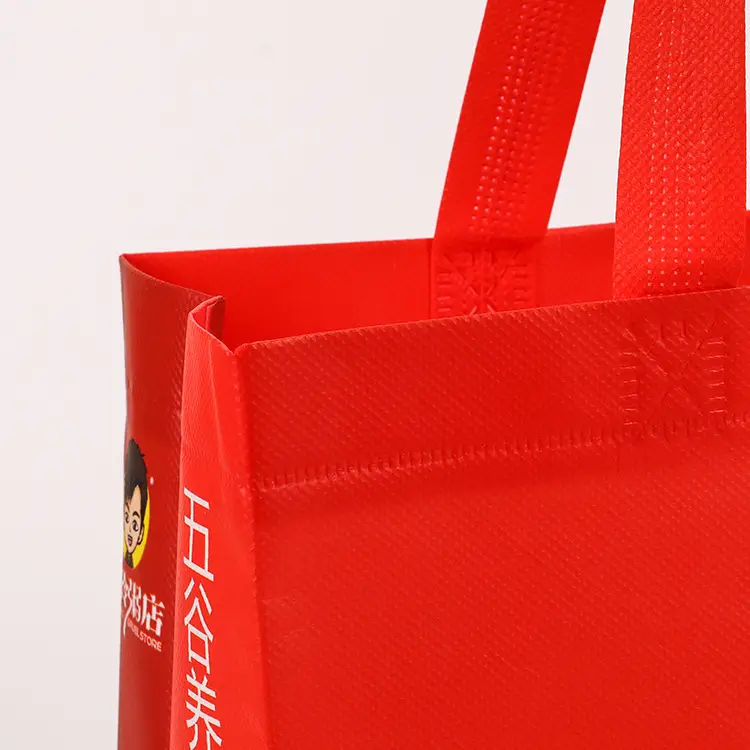 Durability to protect food integrity
Our non-woven bags undergo strict material selection and fine craftsmanship to ensure their durability and load-bearing capacity. According to the experimental data, our bags can withstand a weight of more than 15 kilograms and are suitable for packaging of various foods. The toughness of the non-woven material makes it not easy to fray or break during long-term use, providing a solid protection for your take-out food.
In addition, non-woven materials have excellent waterproof and breathable properties. In the hot summer, when your take-out food is packed in our bags, there is no need to worry about food spoilage due to moisture. The waterproof performance of non-woven bags can effectively block the intrusion of external moisture and moisture, and keep food fresh and delicious.
At the same time, our non-woven bags have excellent air permeability. This is especially important for packaging hot food, effectively preventing heat from accumulating in the bag, thereby maintaining the temperature and taste of the food. For packaging liquid food, the air permeability of the bag can prevent the internal pressure of the food and prevent the package from breaking.
A fast food chain uses our nonwoven bags to pack piping hot hamburgers and fries. Customers generally report that even during the delivery journey, the food remains steaming hot, crisp, tender and delicious, just like eating in the store. This is due to the excellent waterproof and air permeability of the non-woven bag, which ensures the integrity and freshness of the food.
At another cold drink shop, our bags are used to pack a variety of beverages. Iced beverages remain cool inside the non-woven bag, and the durability of the bag ensures that the drink will not leak due to packaging damage. This allows customers to enjoy a cool taste even in the hot summer.
Our custom take-out food non woven bags with logo perform excellent in durability and protecting food integrity. The waterproof and breathable properties of non-woven materials provide a reliable packaging solution for all types of take-out food, keeping your food fresh and delicious when it reaches customers. Choose our products to provide the best packaging protection for your food delivery business, improve customer satisfaction and word-of-mouth communication.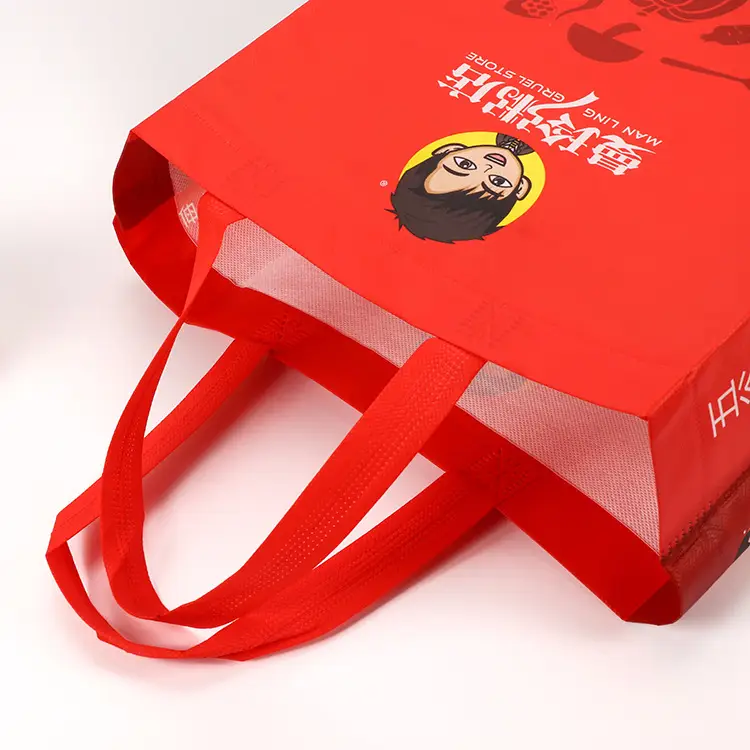 Easy to carry and improve customer satisfaction
Our non-woven bags are lightweight and easy to carry with a lightweight design. According to customer feedback, our bags are convenient for customers to take away food without worrying about the burden of heavy packaging. Compared with traditional plastic bags, our non-woven bags are more environmentally friendly and practical, making customers more pleasant when using them.
A fast food chain uses our nonwoven bags to package take-out burgers and fries. Customers don't need to use extra handbags when they take out food, they can carry it directly with our bags. Customers praise our bags for their convenient and lightweight design, making their take-out experience easier.
Another coffee shop uses our non-woven bags to package hot and cold beverages. The waterproof performance of the non-woven bag allows customers not to worry about the leakage of the drink during the carrying process, and it is easy to carry and can be taken with you. Customers posted photos of our bags on social media, praising our packaging design for making coffee on the go more stylish and convenient.
Customer satisfaction has been significantly improved by using our Non Woven Bags. A good packaging bag design not only makes take-out more convenient, but also leaves a good impression on customers. Satisfied customers tend to become repeat customers who not only keep buying your products, but also proactively recommend your restaurant to friends and family. Such word-of-mouth communication will contribute to the promotion of your brand awareness and increase in market share.
Our custom take-out food non woven bags with logo are outstanding in terms of easy portability and improved customer satisfaction. Lightweight design and practicality make it easier for customers to carry take-out food, increasing their goodwill and satisfaction with your brand. Choose our products and let us work together to bring more success and sustainable development to your food delivery business.
E

pilogue
Our custom take-out food non woven bags with logo are ideal for the take-out industry. Environmental protection, durability, personalized design and easy to carry make it your right-hand man to enhance your brand image and meet customer needs. Choose our products, let us contribute to the cause of environmental protection, and bring more success and development to your food delivery business.
FAQ
Q1: Can I customize the non-woven bags with my own logo for take-out food?
A1: Yes, absolutely! We offer customizations that allow you to add your own logo, brand name, or any other design elements to the non-woven bags. This way, you can have personalized packaging that represents your brand and enhances your visibility.
Q2: What is the material used for the non-woven bags?
A2: Our non-woven bags are made from high-quality and eco-friendly materials. Non-woven fabric is a synthetic material that is durable, tear-resistant, and has excellent water repellent properties, ensuring that your take-out food remains fresh and intact during transportation.
Q3: Are the non-woven bags reusable?
A3: Yes, our non-woven bags are designed to be reusable. Unlike traditional plastic bags, these bags have a longer lifespan and can withstand multiple uses without losing their quality. This reduces plastic waste and promotes a more sustainable approach to packaging.
Q4: Can I order non-woven bags in bulk?
A4: Certainly! We offer bulk ordering options for our custom non-woven bags. Ordering in bulk is a cost-effective way to get more bags at a discounted price, making it ideal for businesses with high packaging demands.
Q5: How long does it take to receive my custom non-woven bags?
A5: The delivery time may vary depending on the quantity and complexity of your customization. Typically, the production process takes around 7-10 business days. However, we strive to ensure prompt delivery, and our team will provide you with an estimated timeline before you place your order.
Q6: Can I see a sample of the custom non-woven bag before placing a bulk order?
A6: Yes, we understand the importance of ensuring that the final product meets your expectations. We can provide a sample of the custom non-woven bag for your approval before proceeding with the bulk order.
Q7: Are the non-woven bags suitable for all types of take-out food?
A7: Absolutely! Our non-woven bags are versatile and suitable for a wide range of take-out food items, including hot and cold meals, beverages, snacks, and more. The bags' durability and insulation properties make them ideal for preserving the freshness and quality of various food items.
If you have any other questions or specific requirements, please feel free to contact our customer support team. We are here to assist you in creating the perfect custom non-woven bags for your take-out food business!