In today's fast-paced life, convenience stores have become an integral part of people's daily lives. In convenience stores, how to provide more convenient and environmentally friendly shopping methods has always been the focus of merchants. We are proud to introduce you a remarkable product - thick laminated non-woven tote bag, which not only provides an ideal shopping solution for convenience stores, but also becomes the best companion in the mind of your customers.
Quality assured laminated non-woven material
We are proud of our thick laminated non-woven tote bags, which are made of high-quality non-woven materials and undergo a rigorous manufacturing process to ensure excellence in quality. This laminated nonwoven material is not only refined in appearance, but also outstanding in terms of functionality and sustainability.
Through multi-layer pressing process, our tote bag has excellent strength and durability. It can easily handle the weight of various shopping items, whether it is daily necessities or groceries, it will be handy. This reliable guarantee of durability allows your customers to rely on our tote bags for added convenience and peace of mind while shopping.
The environmental protection characteristics of non-woven materials are also a highlight of our products. Today, people are increasingly concerned about environmental protection and sustainable lifestyles, and nonwovens are a good example of this concept. Non-woven fabric is a fiber-based reusable material that not only reduces the use of plastic, but also contributes to reducing the environmental burden. Therefore, choosing our thick laminated non-woven tote bags will not only save costs for your business, but also provide customers with an environmentally friendly shopping choice.
More importantly, our non-woven materials have undergone strict testing to ensure that they are non-toxic and harmless, in line with modern people's pursuit of green life. This means that customers can use our bags without worrying about the health effects of harmful substances.
The thick laminated non-woven tote bags not only stand the test of quality, but also adhere to the concept of environmental protection and sustainability, bringing more benefits to merchants and customers. Whether it is durability or environmental protection and non-toxicity, it reflects our commitment to quality and our firm belief in a green future. Choose our products to bring more guarantees of quality and sustainability to your shopping experience.
Spacious and practical design
Our proud tote bag, with its spacious and large capacity design, provides customers with an excellent shopping solution. Whether it's daily groceries and household items to get home, or just occasional groceries and small items, our tote bags can easily accommodate your various shopping needs. This practical design will bring your customers a more convenient and pleasant shopping experience.
In a busy life, most people want to be able to complete shopping tasks efficiently and reduce unnecessary trouble and time wasting. And our tote bag just meets this need. Its spacious design means shoppers don't have to worry about the size and quantity of shopping items, whether it's a small delicate item or a larger item, it can be easily packed into the tote bag. This not only brings convenience to customers, but also saves them time and energy.
In addition, our tote bags do not lose beauty and practicality under the spacious design. Its appearance is simple and elegant, but without losing the consideration of details. Sturdy materials and reliable manufacturing guarantee the carrying capacity of the tote, allowing customers to load their shopping without stress.
The spacious and practical design of our tote bags brings customers a more convenient and pleasant shopping experience. Whether shopping for your daily necessities with ease or buying a bulk, our tote bags have what you need for a comfortable, hassle-free shopping experience. Choose our products to make your convenience store the best shopping destination in the eyes of customers.
R

ecommended size
When considering the recommended size of thick laminated non-woven tote bags, the following are some common size ranges, you can choose from actual needs and product positioning according to your convenience store. These dimensions are for reference only, and the specific dimensions should be determined according to your product characteristics and market demand.
Length x width x height: approx. [30-40] cm x [20-30] cm x [10-15] cm
This size is suitable for general daily shopping needs and can accommodate all types of goods, from food to household items.
Length x width x height: approx. [40-50] cm x [30-40] cm x [15-20] cm
If you're targeting larger shopping items, such as home appliances or bulk groceries, this size range might be a better fit.
Length x width x height: approx. [50-60] cm x [40-50] cm x [20-25] cm
If your convenience store caters to customers who shop in high volumes, such as shoppers or those with larger household needs, this larger size range may be more appropriate.
Note that the thickness of the bag is also one of the important factors to consider. Appropriate thickness can ensure the carrying capacity and durability of the tote bag. You can choose the appropriate thickness according to the above size range and product characteristics.
The final size selection should be based on your product positioning, target market and consumer habits. You can conduct market research to understand the shopping habits and needs of your customers so that you can more accurately determine the best fit. At the same time, work with our design team to adjust and optimize according to the actual situation, so as to ensure that your thick laminated non-woven tote bag can meet the needs of customers and provide an excellent shopping experience.
Reinforced handle and bottom support
In the thick laminated non woven tote bag designed for you, we have fully considered customers' comfort and shopping safety. For this reason, we have specially equipped with reinforced handles and bottom supports to ensure that you can carry items easily and freely during the shopping process, and the stability of shopping items is effectively guaranteed.
1. Handle design: We have specially designed the handle of the tote bag to provide a comfortable and secure carrying experience. No matter how big or heavy your purchase is, the thoughtfully designed handle distributes the weight, taking the strain off your arms and making it easier to carry. Whether it's long shopping trips or heavy items, our handles provide you with excellent carrying comfort.
2. Bottom Support: The stability of shopping items is critical for both comfort and safety. To this end, we set up reinforced supports at the bottom of the tote bag to enhance the stability of the bag. This support structure can effectively prevent the bag from tilting or tipping over when placed, ensuring the safety of your shopping items. Whether you're shopping for fragile items, irregularly shaped items, or large quantities, our tote bags will hold up reliably and provide extra security for your shopping experience.
By enhancing the handle and bottom support design, we aim to make your shopping experience more enjoyable and hassle-free. You no longer have to worry about inconvenience or insecurity during shopping, our tote bags will be your reliable companion. While you carry your belongings with ease, we are also committed to letting you enjoy shopping, making every shopping experience a pleasant one. Add extra comfort and peace of mind to your shopping by choosing our heavyweight laminated non-woven tote bags.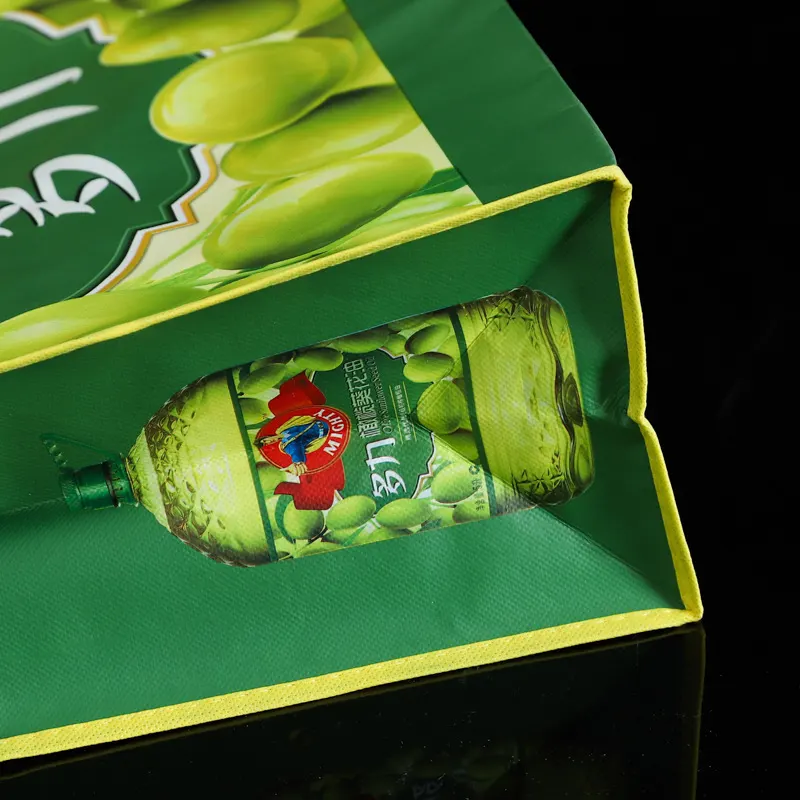 Diversified appearance design
We understand the importance of exterior design in attracting customers, establishing brand image and creating a pleasant shopping experience. To this end, we provide a variety of designs and color options for thick laminated non-woven tote bags, allowing you to customize a unique shopping experience for your convenience store according to your own brand characteristics and customer preferences.
1. Classic style: If your convenience store is based on the theme of tradition and classics, we provide a series of classic designs, such as simple monochrome styles or classic patterns, such as checks, stripes, etc. These designs can bring a stable and elegant atmosphere to your convenience store, allowing customers to feel the traditional values of the brand.
2. Fashion trend: If your convenience store pays attention to fashion and trend, our appearance design will not let you down. Choose from contemporary patterns, patterns or colors to bring vibrancy and style to your convenience store. Such a design can attract the younger generation of customers and let them feel the fun and freshness of shopping.
3. Brand customization: In addition to general design options, we also support brand customization to create a unique look for the bag according to your brand logo, slogan or character. Your brand elements will become the highlight of the bag, allowing customers to recognize your convenience store at a glance, enhancing brand recognition and impression.
4. Seasonal theme: For different seasons and festivals, we provide specially designed appearances, such as Christmas theme, summer beach, etc., to help you create a festive atmosphere for customers and increase shopping fun and sense of ceremony.
For example, for spring, we can design light and lively patterns of flowers and green leaves to bring customers a feeling of spring. In winter, we can choose snowflakes and festive elements to add a warm festive atmosphere to shopping.
We offer a variety of exterior design options designed to create a unique and attractive shopping environment for your convenience store. Exquisite appearance design can not only attract customers' attention, but also make them feel happy and satisfied when shopping. Make your convenience store a favorite shopping destination with our heavyweight laminated nonwoven tote bags.
Advantages and cost performance coexist
The thick laminated non-woven tote bag is not only guaranteed in quality, but also very affordable in price. Please contact us for specific prices. Due to the difference in bag size, logo color, printing process, production process, quantity, etc., the price is not unique. Generally speaking, the price range is 0.09$-0.49$. Compared with disposable plastic bags, its durability can allow customers to use it many times, saving them money and establishing a good environmental image for your convenience store.
The thick laminated non-woven tote bag is the ideal companion for convenience stores, providing your customers with a convenient and practical way to shop while also being an eco-friendly living choice. Its quality assurance, spacious and practical design, reinforced handle and bottom support, and diverse appearance designs will add a lot of highlights to your convenience store. Choose our thick laminated non-woven tote bags to make your convenience store more eco-friendly and stylish, and bring customers a more satisfying shopping experience.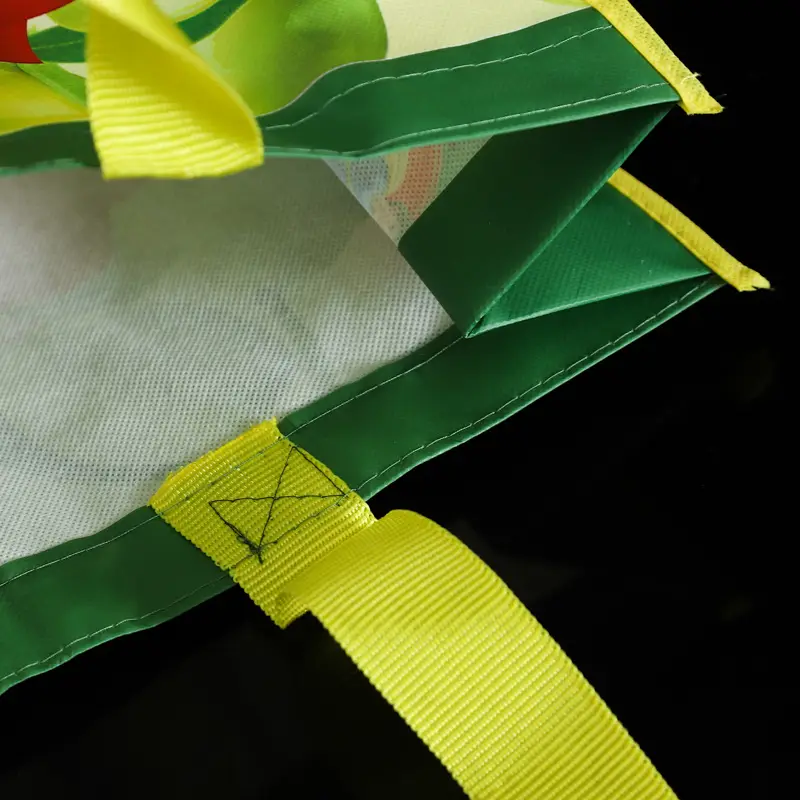 FAQ
What is a Thick Laminated Non-woven Tote Bag?
A Thick Laminated Non-woven Tote Bag is a reusable and durable bag designed specifically for convenience stores. It is made from high-quality non-woven fabric that has undergone a lamination process, providing extra strength and durability.
What are the benefits of using this tote bag?
This tote bag offers several benefits, including its sturdiness, reusability, and eco-friendliness. It can hold heavy items without tearing, reducing the need for single-use plastic bags and contributing to a greener environment.
How strong is the bag's handle?
The bag's handle is reinforced to ensure it can withstand the weight of items comfortably. Whether you're carrying groceries, household essentials, or other purchases, the reinforced handle provides a secure grip.
Can this bag support bulky or large items?
Yes, the Thick Laminated Non-woven Tote Bag is designed to accommodate a variety of items, including bulkier or larger purchases. Its spacious interior and reinforced structure make it suitable for carrying a wide range of goods.
Is the bag easy to clean?
Yes, the lamination process not only adds to the bag's strength but also makes it water-resistant and easy to wipe clean. This feature ensures that the bag can be reused multiple times and maintained in good condition.
Can I customize the bag's design?
Absolutely! We offer various design options and color choices to match your convenience store's branding or preferences. Whether you want a classic, modern, or seasonal design, we can create a customized look for your tote bags.
Are these tote bags environmentally friendly?
Yes, the Thick Laminated Non-woven Tote Bag is an eco-friendly alternative to single-use plastic bags. Its durable construction promotes reuse, reducing the overall demand for disposable bags and helping to minimize plastic waste.
How can I place an order for these tote bags?
To place an order, please contact our sales team through the provided contact information. Our representatives will guide you through the ordering process, including selecting the desired quantity, design options, and any customization preferences.
Can these tote bags be used for promotions or events?
Absolutely! These tote bags can serve as excellent promotional items for your convenience store. You can offer them as giveaways during special events, promotions, or loyalty programs to enhance customer engagement and loyalty.
What is the typical lead time for order fulfillment?
The lead time for order fulfillment may vary based on the quantity ordered and customization requirements. Our sales team will provide you with a more accurate estimate of the production and delivery timeline when you place your order.
Investing in our thick laminated non-woven tote bag for your convenience store not only offers practical benefits but also aligns with sustainable and environmentally conscious practices. Feel free to contact us for further information, customization options, and to place your order.