In today's dynamic market, presenting your brand with eco-friendly and customizable solutions is not just a choice but a necessity. As a prominent non-woven bag manufacturer, we offer an array of possibilities to help you stand out while making an environmentally responsible choice.

Non-woven bags can be customized
Our wholesale custom non-woven bags are a canvas awaiting your brand's creative expression. With a versatile range of vibrant colors to choose from, you can effortlessly match your brand's identity or event theme. From bold hues that demand attention to subtle shades that exude sophistication, our bags can be tailored to resonate with your target audience.
At our company, customization is at the heart of what we do. We understand that every individual, event, or brand is unique, which is why we proudly offer a comprehensive customization service that caters to your specific needs. From dimensions that fit just right, to styles that align with your vision, and a spectrum of colors that reflect your identity – we're dedicated to bringing your ideas to life.
Our commitment to customization means that you have the freedom to curate products that resonate with your essence. Whether it's a corporate event, promotional campaign, or special occasion, we ensure that every detail is tailored to perfection. Our skilled artisans work meticulously to craft items that not only meet but exceed your expectations, leaving a lasting impression on your audience.
We take pride in being your partner in creating truly personalized products. With our expertise and your imagination, the possibilities are limitless. Let your creativity flourish as we transform your concepts into tangible, customized treasures. Get in touch with us today and embark on a journey of bespoke excellence. Your vision, our craftsmanship – together, we bring it to life.
Unmatched Quality, Unbelievable Prices
We understand the importance of combining quality with affordability. Our non-woven bags are expertly crafted using premium materials, ensuring durability that goes hand-in-hand with style. And the best part? Our low prices make these non-woven bags an accessible choice for companies in different industries and different scales.
Our non-woven bags offer an exceptional combination of quality and affordability, making them a standout choice in the market. With a strong focus on delivering value, we take pride in providing products that excel both in terms of their craftsmanship and their cost-effectiveness.
Our commitment to high-quality materials and meticulous production ensures that our non-woven bags maintain their durability and functionality, meeting the diverse needs of our customers. What sets us apart is our ability to offer this level of quality without compromising on price.
We understand the importance of delivering products that not only meet but exceed expectations, all while remaining accessible to a wide range of budgets. This dedication to striking the perfect balance between quality and cost has earned us a reputation for having one of the highest price-performance ratios in the industry.
Choosing our non-woven bags means investing in a product that not only reflects your commitment to quality but also offers exceptional value for your money. Whether for promotional purposes, events, or everyday use, our non-woven bags stand as a testament to our unwavering commitment to delivering the best of both worlds – unmatched quality and an affordable price point.
Eco-Friendly
In an era where sustainability is paramount, our non-woven bags are your eco-conscious solution. These reusable bags not only reduce single-use plastic waste but also showcase your commitment to a greener planet. By opting for our wholesale non-woven bags, you're making a positive impact while raising brand awareness.
In a world increasingly focused on sustainability, the significance of making eco-conscious choices cannot be overstated. Our range of non-woven bags emerges as a powerful solution to address the environmental concerns of today. These versatile and reusable bags not only offer functional utility but also reflect a profound commitment to a greener future.
By choosing our non-woven bags, you're actively contributing to the reduction of single-use plastic waste, a pressing issue that has far-reaching consequences for our environment. The durability and reusability of our bags translate to fewer plastic bags ending up in landfills and oceans, alleviating the burden on our planet.
Beyond the tangible impact, these bags serve as ambassadors of your brand's environmental responsibility. Every time your logo graces one of our non-woven bags, it signifies your dedication to making a positive change. It sparks conversations, spreads awareness, and resonates with consumers who appreciate and support sustainable practices.
Opting for our wholesale non-woven bags is not just a procurement decision; it's a conscious step towards creating a more sustainable future. It aligns your brand with the values of modern consumers who prioritize environmental stewardship. Together, we can make a lasting difference—one reusable bag at a time.
Choose our non-woven bags to make a statement, to redefine your brand's image, and to contribute to a world where sustainability thrives. Join us in shaping a greener planet, one bag, one choice at a time.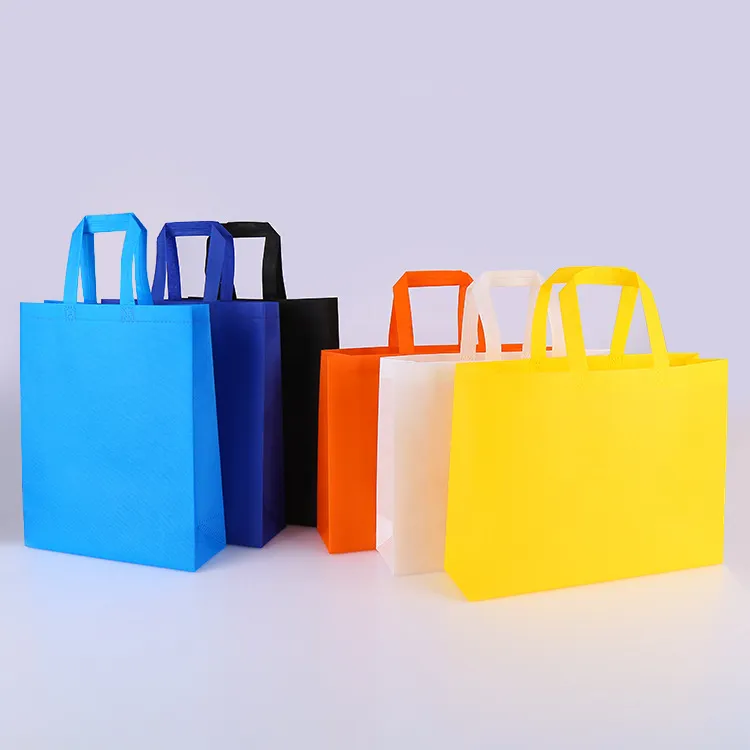 Why Choose Us?
Tailored to Perfection: Our bags can be customized to your exact specifications, including size, color, handles, and branding options.
Versatility in Colors: Whether it's a corporate event, trade show, or retail promotion, our wide spectrum of colors ensures you find the perfect match.
Affordable Excellence: We believe in offering high-quality products at prices that won't break the bank, allowing you to elevate your brand without compromise.
Eco-Friendly Mission: Join us in reducing environmental impact – our non-woven bags are not only reusable but also 100% recyclable.
Prompt Delivery: We understand deadlines, and our efficient production and delivery process ensures your order reaches you on time.
Elevate your brand's visibility, resonate with your audience, and contribute to a sustainable future – all with our Wholesale Custom Non-Woven Bags. Contact us today to embark on a greener, stylish, and cost-effective branding journey.
FAQ
1. What are Non Woven Bags?
Non Woven Bags are versatile, eco-friendly bags that can be tailored to your specific requirements. They are available in a range of colors, sizes, and styles, making them a perfect choice for businesses, events, and promotions.
2. How can I customize these bags?
You can customize these bags by selecting the desired color, size, and style that align with your brand or event theme. You can also add your logo or artwork to create a unique and personalized look.
3. What makes these bags eco-friendly?
Our Non Woven Bags are environmentally friendly as they are reusable and reduce the need for single-use plastic bags. By opting for these bags, you contribute to reducing plastic waste and promoting sustainable practices.
4. Are the bags of good quality despite the low price?
Absolutely. Our commitment to quality ensures that even though our prices are low, the bags are crafted using premium non-woven materials that are durable and long-lasting.
5. How can I benefit from using custom non woven bags?
Using these bags can enhance your brand visibility, showcase your commitment to sustainability, and provide a cost-effective solution for promotions, giveaways, or retail packaging.
6. Can I order these bags in bulk?
Yes, these bags are available for wholesale orders. Ordering in bulk allows you to take advantage of even lower prices and ensures you have an ample supply for your needs.
7. Can I use these bags for different occasions?
Absolutely. Our Non Woven Bags are versatile and suitable for a wide range of occasions, including trade shows, conferences, retail stores, and more.
8. How do I place an order for custom non woven bags?
Placing an order is easy. Simply contact our sales team, provide your customization preferences, quantity, and any artwork/logo, and we will guide you through the process.
9. How soon can I expect my order to be delivered?
Delivery times may vary based on your location and the quantity of your order. Our team will provide you with an estimated delivery date once your order details are confirmed.
10. Are these bags recyclable?
Yes, these bags are 100% recyclable, contributing to a circular and sustainable product lifecycle.
Elevate your branding efforts with our custom non woven bags, offering an array of colors and customization options at a budget-friendly price. Contact us to embark on an eco-friendly and impactful promotional journey.
Hilaud - Your Partner in Sustainable Style.