Product information
Material: Silicone
Size: 22.8 * 2.5cm
Weight: 18.8 grams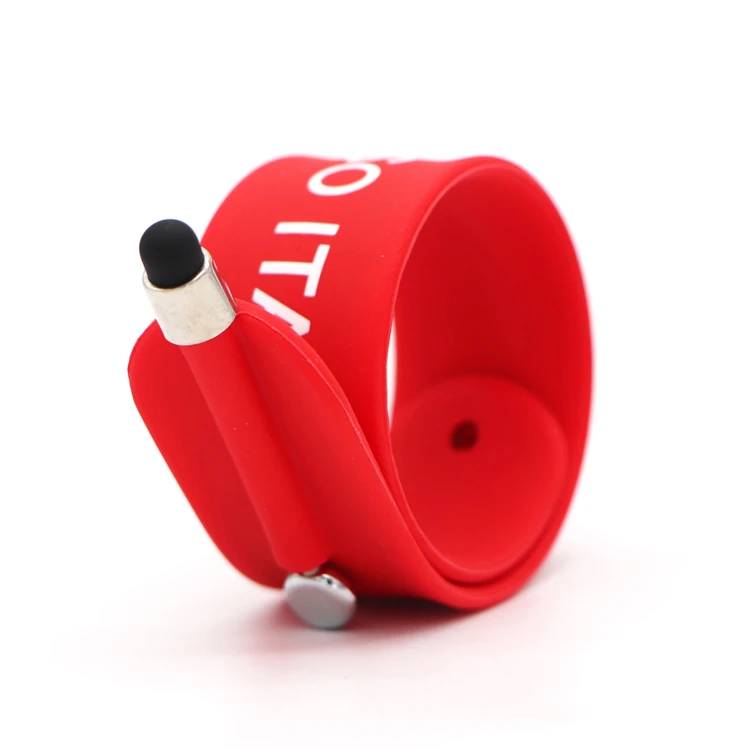 This wrist strap touch screen pen is made of high-quality silicone material to ensure the durability and comfort of the product. Size can be customized according to customer's requirements.
Advantage of our wrist strap touch screen pens
The right size:
The size of the wrist strap touch screen pen is 22.8*2.5 cm, which is moderate in size and suitable for people with various wrist sizes. It is neither too tight nor too loose, ensuring a comfortable fit while providing a stable use experience. Of course, if you need wrist straps of other sizes, we can professionally customize them for you. We will provide you with satisfactory business customized gifts.
Light weight:
The weight of the wrist strap touch screen pen is 18.8 grams, which is very light and portable. It will not bring a heavy burden to the wearer, it is easy to carry, and the touch function can be used anytime and anywhere. Lightweight and portable is one of the reasons it can be a popular business gift.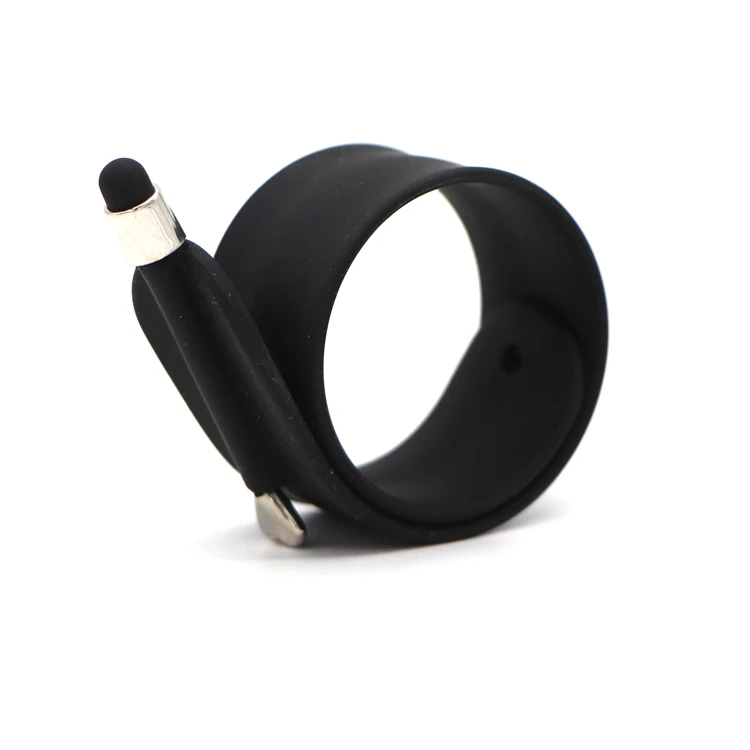 Multifunctional and practical:
This wrist strap touch screen pen not only has the function of a wrist strap, but also can be easily transformed into a touch screen pen. For modern people, mobile devices have become an important part of everyday life. The design concept of the wrist-worn touch screen pen is close to the needs of consumers, so that it can be easily operated on touch-screen devices such as mobile phones and tablets, providing a more convenient user experience. This is also the most important reason why it is popular as a business gift.
High-quality materials:
The wrist strap touch screen pen uses rich built-in materials, and the surface is covered with environmentally friendly silicone. This material not only has good flexibility and tension, but also has no peculiar smell and non-toxicity. It is not easy to crack, does not irritate the skin, is wear-resistant, high-temperature resistant, does not deform, and has a long service life. This green and environmentally friendly jewelry is exquisite in craftsmanship, stylish and beautiful. According to customer requirements, LOGO, text, patterns, etc. can be screen-printed or color-printed on the surface of the product. It is widely used in enterprises, organizations, personal event promotion, business gifts, sports and leisure. , private customization, banquet parties, business travel, celebrations and other fields.
Brand image communication:
As a business gift, the wrist strap touch screen pen can help companies or organizations to effectively communicate their brand image. Customized LOGO, text and patterns can be printed directly on the surface of the product, becoming a unique promotional medium. Whether it is in a conference, exhibition or other business occasions, this product can attract attention and make the recipient have a deep impression of the brand. By customizing the wristband touch screen pen as a business gift, enterprises or organizations can effectively enhance brand awareness and image.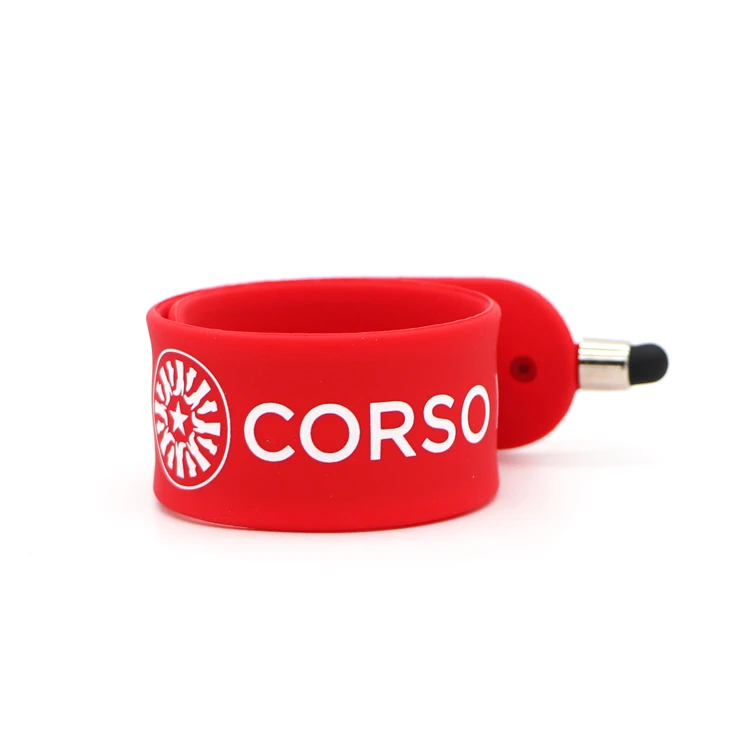 Multi-occasion application:
The versatility of the wrist strap touch screen pen makes it suitable for various occasions. Whether it's a sporting event, business gathering, travel celebration, or other event, this product can make a difference. When used as a wrist strap, it can become a stylish decoration and enhance the overall image; when a touch screen pen needs to be used, it can meet the needs of users and provide a convenient operating experience. Whatever the occasion, a wrist strap touch screen pen can be a unique and useful gifting option.
This custom wrist strap touch screen pen is not only made with quality in material selection, but also carefully designed in terms of size and weight. Not only does it provide a premium touch experience, but it also fits comfortably on the wrist. Whether for personal use or as a business gift, this wrist strap touch screen pen will be a practical and stylish choice.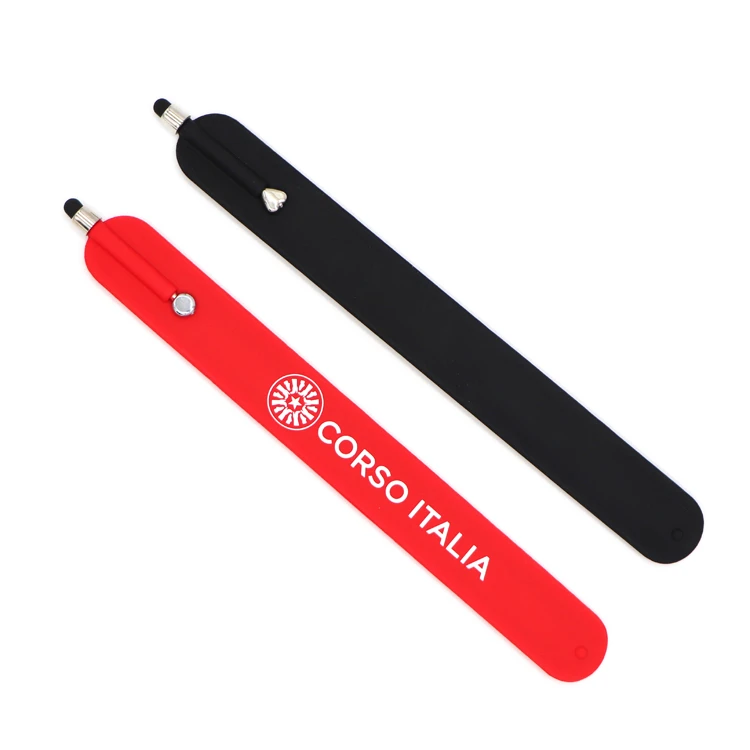 The advantages of our wristband touch screen pen are self-evident. It combines the characteristics of multi-functional practicality, high-quality materials, brand image communication and multi-occasion applications, which can meet the needs of modern people and provide unique gift options. If you are looking for a business gift that is unique, practical and can effectively convey your brand image, a custom wrist strap touch screen pen will be your best choice.