This colorful ballpoint pen is very fashionable in style, the silver coil increases or decreases the dynamics, and the coating is very glossy. Ballpoint pen refills are available in black and blue, which are just right for work. Very suitable for bulk customization
Product Name: Plastic ballpoint pens bulk as advertising promotional items for training institution
Material: ABS
Way: press
Refill Color: Black and Blue
Pen body color: coated plastic barrels of various colors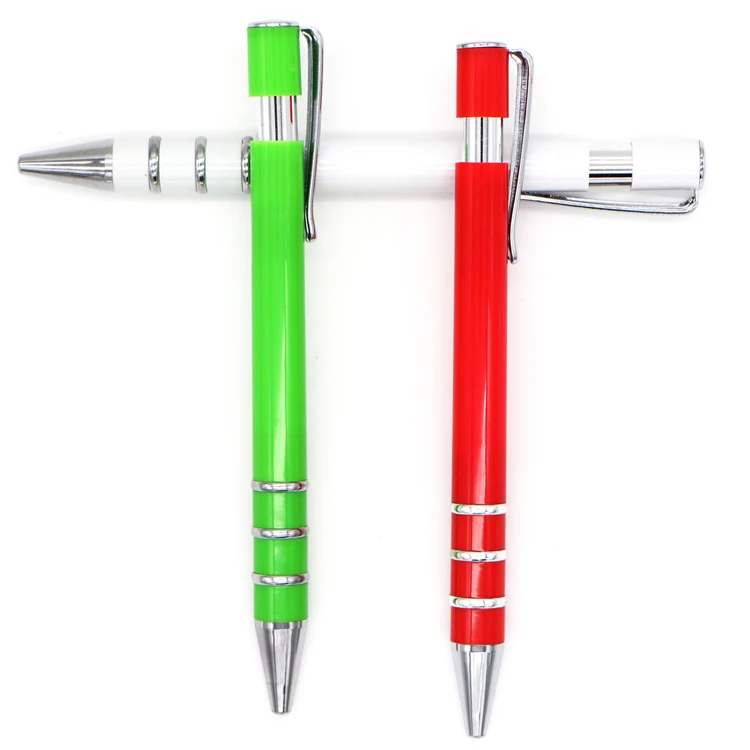 When training institutions choose plastic ballpoint pens as advertising promotion items, the following are some common ballpoint pen parameters and recommendations:
Pen body material: choose high-quality plastic materials, such as ABS or PP, to ensure that the pen body is durable and provide a comfortable grip.

Pen tip type: Common ballpoint pen tips are 0.5mm, 0.7mm and 1.0mm. Among them, 0.7mm is the most commonly used size, which is suitable for general writing and drawing needs. The appropriate size can be selected according to the preferences of the target audience.

Ink Color: Ballpoint pens usually come in a variety of ink colors, such as blue, black, and red. It is recommended to choose commonly used blue and black inks, as they are suitable for most writing and office scenes.

Printing customization: The name, logo, contact information and slogan of the training institution can be printed on the pen body. Choose a clearly visible, durable and colorfast printing method, such as screen printing or inkjet printing, to ensure long-term display of your promotional messages.

Cap and Clip Design: Consider choosing a design with a removable cap and clip. The pen cap can protect the pen tip, and at the same time it is convenient to carry and use; the clip can fix the pen on clothes, notebooks or file folders for easy carrying.

Pen body color: Choose a pen body color in line with the institution's brand image and event theme. Bright, vibrant colors are often recommended to attract attention and increase brand recognition.

Pen body design: Consider choosing an ergonomic pen body design for a more comfortable grip and smoother writing. The smooth and easy-to-grip surface of the pen body can provide a better writing experience.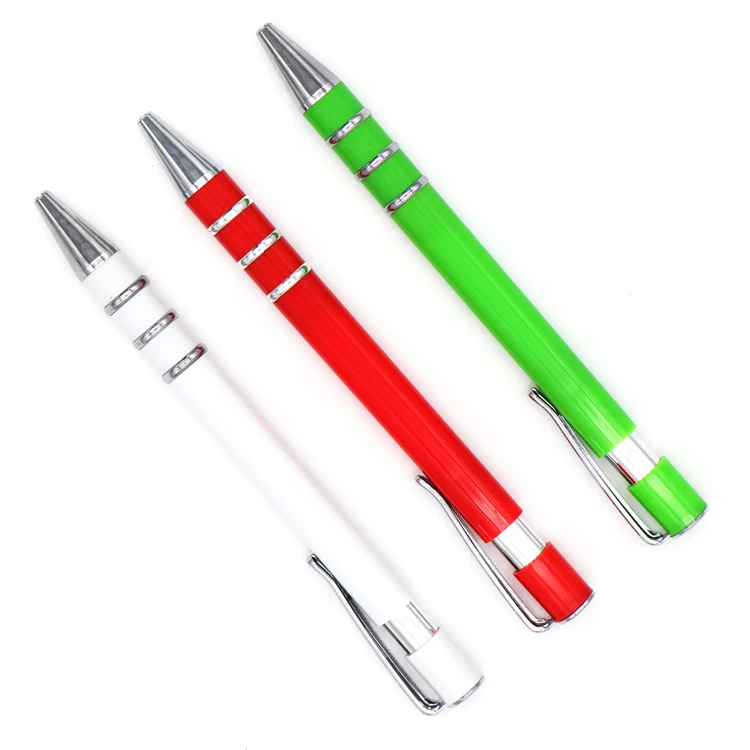 Use the table to prompt the parameters of the advertising plastic ballpoint pen
| Parameter | Recommended Range | Description |
| --- | --- | --- |
| Pen Tip Size | 0.5mm, 0.7mm, 1.0mm | Common pen tip sizes suitable for different writing and drawing needs. |
| Ink Color | Blue, Black | Common ink colors suitable for most writing and office scenarios. |
| Pen Body Material | ABS plastic, PP plastic | High-quality plastic materials that ensure durability and provide a comfortable grip. |
| Pen Body Color | Multiple colors available | Choose suitable colors according to the organization's brand image and event themes to enhance brand recognition. |
| Custom Printing | Screen printing, Inkjet printing | Clear, long-lasting printing methods to customize the pen body with the organization's name, logo, contact information, and slogan. |
| Cap and Clip Design | Detachable cap, clip | Cap protects the pen tip and facilitates portability and usage; clip allows the pen to be secured to clothing, notebooks, or folders for convenience. |
| Body Design | Ergonomic design | Ergonomically designed pen body for comfortable grip and smooth writing. Smooth and easy-to-hold surface enhances the writing experience. |
The above are some common ballpoint pen parameters and recommendations. Training institutions can choose appropriate ballpoint pen parameters according to specific needs and target audience preferences to customize ballpoint pens that meet the publicity needs of training institutions. You need to contact your supplier, if you have your own ideas, you can contact us directly.
Please note that this is a basic reference table, and specific specifications may vary depending on requirements and product options from different manufacturers. When selecting custom ballpoint pens, it is important to consider the organization's brand image, promotional objectives, and audience needs. It is recommended to discuss and confirm these parameters in detail with the manufacturer or supplier.
What are the advantages?
COST-EFFECTIVE: Wholesale Plastic Ballpoint Pens is an affordable advertising and promotion strategy. As a common daily necessities, the price of plastic ballpoint pens is relatively low, so you can get more favorable prices in large quantities. This allows training institutions to obtain a large number of advertising and promotional items at a lower cost to meet their promotion needs.

Practicality and Durability: Plastic ballpoint pens are very practical as advertising promotional items and have a long service life. Students, faculty and staff often need to use notes and signatures in their daily study and work, so providing a plastic ballpoint pen as a gift can meet their needs and make the advertisement continue to appear in their daily life.


Customizable: Plastic ballpoint pens can be customized according to the brand image and publicity information of the training institution. The organization's name, logo, contact information and slogan can be printed on the ballpoint pen to effectively communicate the organization's brand values and service characteristics. In this way, students and other users will be constantly exposed to the promotional information of the institution when using the ballpoint pen, increasing the exposure and awareness of the brand.


Marketing Communications: Plastic ballpoint pens are a practical giveaway that is easy to disseminate and share. Students and staff may take ballpoint pens to other occasions such as events at other training institutions, academic conferences or social gatherings. In this way, the promotional information of the institution will be further spread, attracting the attention of more potential students and partners.

For example, a training institution uses a ballpoint pen as one of the promotional items
Suppose a training organization decides to use plastic ballpoint pens as an advertising promotional item. They custom made plastic ballpoint pens with the training institution's name, logo and contact information. The following are their specific applications in promotional activities:
Recruitment exhibition: At various education exhibitions or campus job fairs, the training institution can set up a booth and distribute customized plastic ballpoint pens to visitors. Students and parents can not only start using the ballpoint pen immediately after receiving it, but also learn about the institution's courses and advantages through the promotional information on the ballpoint pen.

Student registration: When new students come to register, the training institution can give them a plastic ballpoint pen as a welcome gift. This not only demonstrates the institution's caring and generosity, but also provides students with practical learning tools and continuously reinforces the institution's brand image and messaging in daily use.


Academic events: Institutions can host or participate in various academic events such as seminars or lectures. At these events, using plastic ballpoint pens as meeting keepsakes or gifts for participants can help attract more people and increase the visibility of the institution.


Social Media Promotion: Training institutions can utilize social media platforms for online promotion. By organizing an online contest or event that asks students to share photos or stories of their use of an institution's custom ballpoint pens, participation can be increased and sponsorship of prizes or coupons can be used to incentivize student participation.

Summarize:
Using plastic ballpoint pens as advertising promotional items is an affordable and effective strategy, especially for training institutes and educational institutions. Custom plastic ballpoint pens are practical, durable and customizable to effectively communicate the institution's branding message and capture the attention of potential students. By applying plastic ballpoint pens to scenarios such as admissions fairs, student registration, academic events, and social media promotion, training institutions can increase brand exposure, attract students, and increase market influence.