What is promotional Non-woven drawstring bag?
A promotional non-woven drawstring bag is a type of bag that is commonly used for promotional purposes. It is made from non-woven polypropylene fabric, which is a synthetic material known for its durability and cost-effectiveness.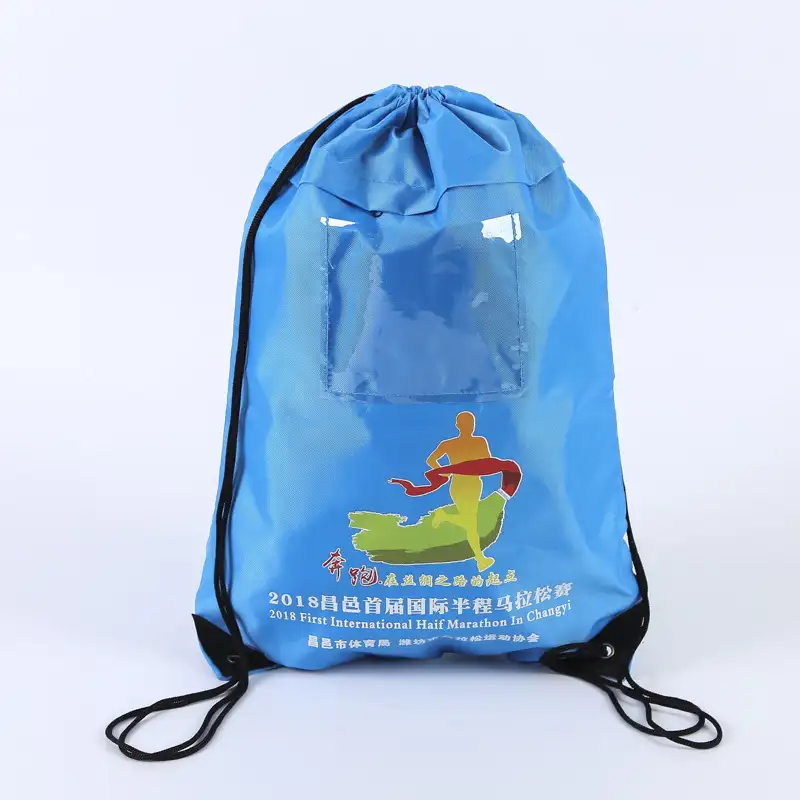 The key features of a promotional non-woven drawstring bag include:
These bags feature a drawstring closure at the top. The drawstring allows the bag to be opened and closed easily with a drawcord, providing quick access to contents and secure closure when tightened. This design is very convenient for volunteers and marathon runners to use.

These bags are usually made of polypropylene non-woven fabric. The material is lightweight, tear-resistant and can withstand everyday use, making it suitable for carrying a variety of items. Volunteers and marathon runners will not increase the burden no matter how much they exercise, and they can hold water, books, documents, etc.

Promotional non-woven drawstring bags offer plenty of room for customization. They can easily be imprinted with company logos, brand messages, slogans or other promotional artwork, enabling businesses or organizations to effectively promote their brand or message. When volunteers and marathon runners participate in the event, their relatives and friends, social platforms, and news media will promote them, and the information on your bag will also be promoted.
These bags are versatile and versatile. They are often used as giveaways at events, trade shows, or conferences. They can also be used as a gym bag, sports bag or backpack for students. They are lightweight for everyday use and transportation.
Cost-Effective Promotion: Promotional Non Woven Drawstring Bags are a cost-effective marketing tool. They offer a large area for branding and are relatively inexpensive to produce, making them an affordable option for businesses looking to increase brand awareness and promote their products or services.

Non-woven drawstring bags are considered more environmentally friendly than single-use plastic bags. They are reusable, reducing the need for single-use bags and helping to reduce plastic waste. This is also a contribution to the environment, and it can also promote your company information multiple times.
Overall, promotional non-woven drawstring bags are practical, versatile, and customizable promotional items that provide businesses with a cost-effective way to promote their brand and reach a wider audience.
A non-woven drawstring bag designed specifically for marathon runners and volunteers offers a convenient and practical solution for carrying essentials during the event. By offering functionality, convenience, and branding opportunities, non-woven drawstring bags designed for marathon runners and volunteers enhance the overall experience of the event while providing a practical and reusable solution for carrying essentials.
We'll detail six of the top benefits of non-woven drawstring bags and why they're a great choice for marathon runners and volunteers.
Part 1: Versatile Design
The non-woven drawstring bag not only provides ample storage space, but also has a multi-functional design. There are multiple partitions and pockets inside the bag, which is convenient for storing items in different categories. Whether it's a water bottle, keys, phone or clothing, these bags help marathon runners and volunteers keep items neatly organized and within easy reach.
Part Two: Comfortable and Convenient Carrying Methods
The drawstring bag is designed as a backpack, and marathon runners and volunteers can adjust the tightness of the bag by simply pulling on the string. The wide and comfortable shoulder straps reduce the pressure on the shoulders and back from heavy loads, making it easier to carry for a long time. The lightweight nature of the non-woven material also makes these bags not an extra burden on the user.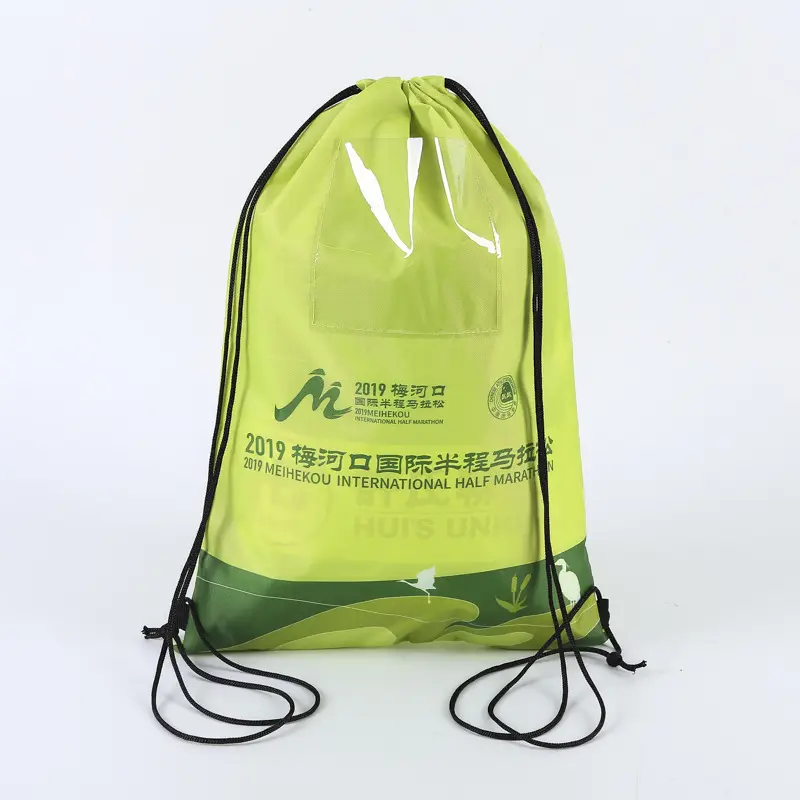 Part Three: Durable and Environmentally Friendly
The non-woven drawstring bags are made of high-quality non-woven material for durability and long life. The non-woven material does not fray, tear or deform easily and can withstand the wear and tear of everyday use. In addition, non-woven fabrics are an environmentally friendly material, compared to plastic bags, they have a lower impact on the environment and can be used multiple times, helping marathon runners and volunteers to reduce waste and plastic pollution.
Part Four: Waterproof Design
In marathons, runners and volunteers often face various weather conditions, including rain. The non-woven drawstring bag adopts a waterproof design, which can effectively prevent the contents of the bag from being soaked by water. Whether it is light rain during running or bathing equipment after a game, users can safely put items in the bag without worrying about moisture damage to the items.
Part V: Ease of Cleaning and Maintenance
The non-woven material has good cleaning and maintenance properties. Marathon runners and volunteers just need to wipe gently with a damp cloth to remove dirt and stains from the surface. In addition, the non-woven fabric also has antibacterial properties, which can effectively inhibit the growth of bacteria and keep the inside of the bag hygienic and dry.
Part Six: Personalization
Non-woven drawstring bags can be customized according to customer needs. You can print your company or event logo, slogan or any other information on the bag to enhance your branding and differentiate the bag from other participants in marathon. Not only does this provide more exposure for your brand, but it also increases the sense of belonging among participants. This is really a great promotional product to give to marathon runners and volunteers.
The non-woven drawstring bag is ideal for marathon runners and volunteers. They have the advantages of multifunctional design, comfortable and convenient carrying mode, durable and environmentally friendly, waterproof design, easy cleaning and maintenance, and personalized customization. We believe that choosing our non-woven drawstring bags will provide excellent using experience for marathon runners and volunteers, and become their right-hand man in the event. Please contact us now and let us customize your exclusive non-woven drawstring bag as the promotional item for you.