High quality materials
Our aluminum foil non-woven insulation outer bag is made of high-quality materials to ensure that food remains fresh and warm during transportation. Aluminum foil layer can effectively isolate external temperature and humidity, allowing food to maintain its original heat and taste.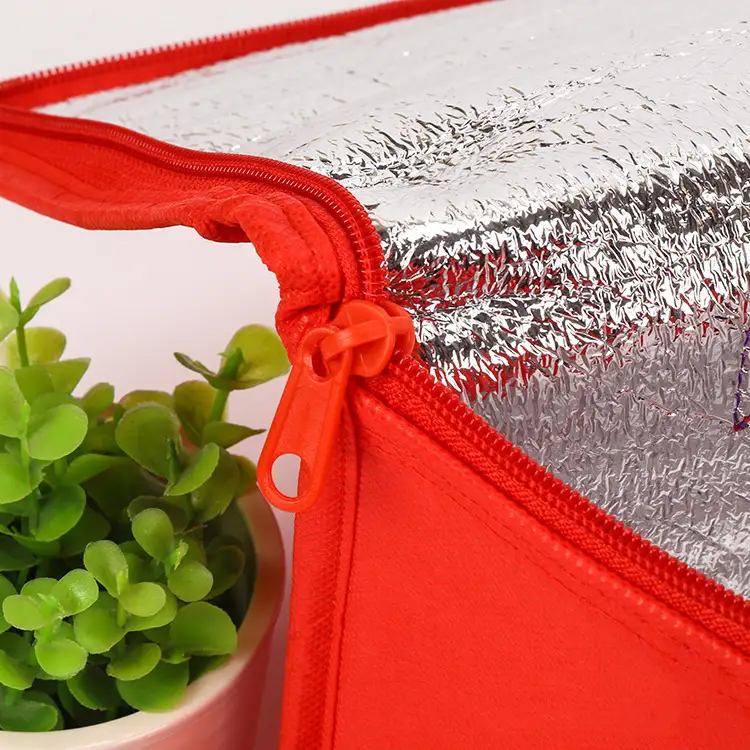 Insulation performance
Our outer bag design is unique and has excellent insulation performance. The combination of aluminum foil layer and non-woven material enables the bag to effectively block the transfer of heat, thereby maintaining the temperature of food. Whether it's hot or cold food, our bags ensure that the food stays at the ideal temperature during delivery.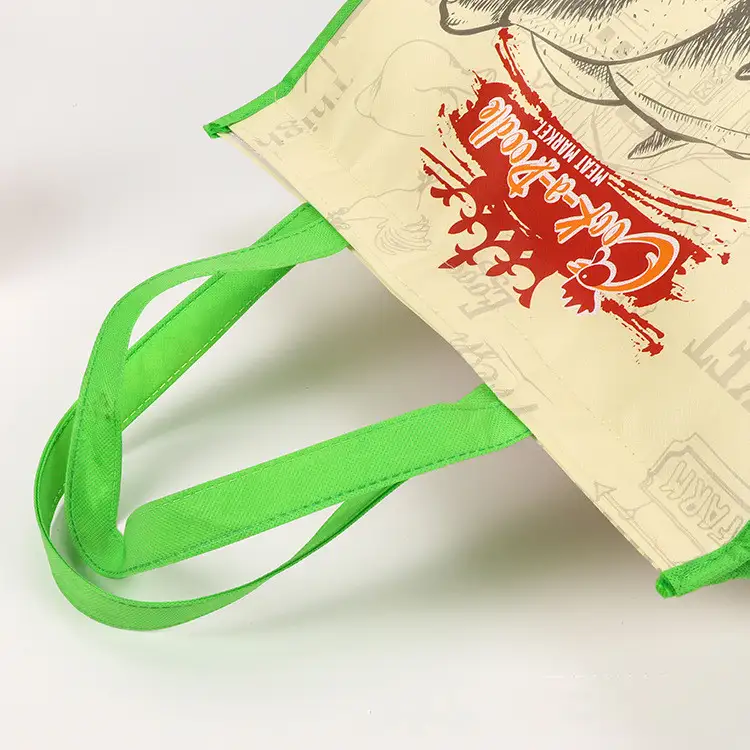 Customization options
We understand that each delivery brand has its unique brand image and style. Therefore, we offer personalized customization options to make your takeout bag unique. You can choose different sizes, colors, printing and design, as well as add brand logos or slogans, making your bag a powerful tool for brand promotion.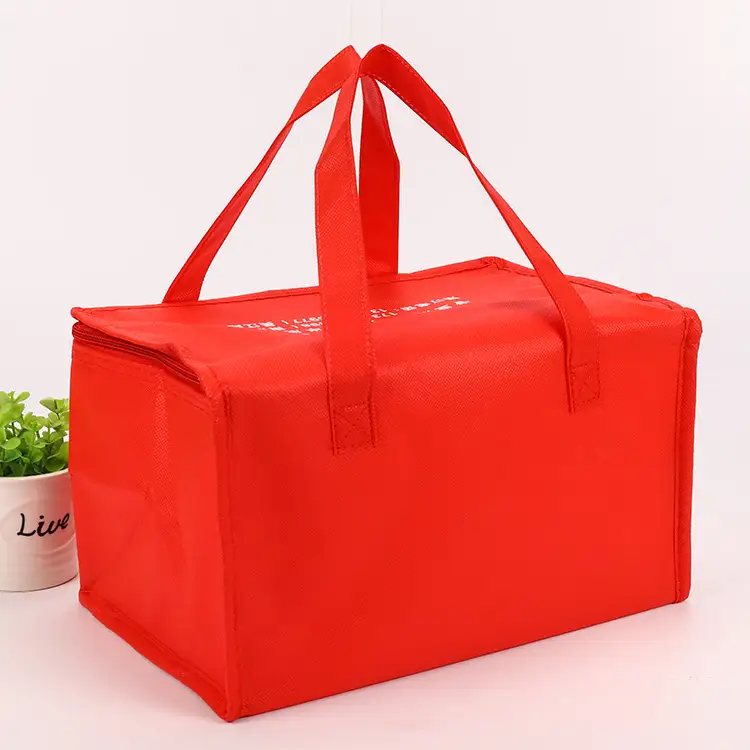 About Dimensions
In the delivery business, choosing the appropriate size of the takeout bag is crucial. We provide you with customized wholesale aluminum foil non-woven insulation outer bag to meet various needs. Whether you need a small bag suitable for single takeout or a large bag suitable for group ordering, we can provide you with the most suitable size choice.
Small size: For single person takeout or small food packaging, we offer various small size bag options. These bags are lightweight and convenient, suitable for fast delivery services. Whether it's lunch boxes, hamburgers, salads, or small desserts, our small bags perfectly hold and keep food fresh and warm.
Medium size: For medium size takeout needs, we offer a variety of medium size bags to choose from. These bags are suitable for accommodating one or two servings of staple foods, such as pizza, noodles, lunch boxes, etc. They provide sufficient space and insulation to ensure that food remains intact during transportation.
Large size: For group ordering, home delivery, or special occasions, we offer the option of large size bags. These bags are spacious and pleasant, capable of accommodating multiple servings of food, such as large portions of pizza, dumplings, stir fried vegetables, etc. They have excellent insulation performance and load-bearing capacity, ensuring that food remains warm and intact during transportation.
Custom size: In addition to standard sizes, we also offer a choice of custom sizes. If you have special size delivery packaging requirements, we can customize production according to your requirements. This way, you can ensure that the bag fully matches your takeout product and brand image.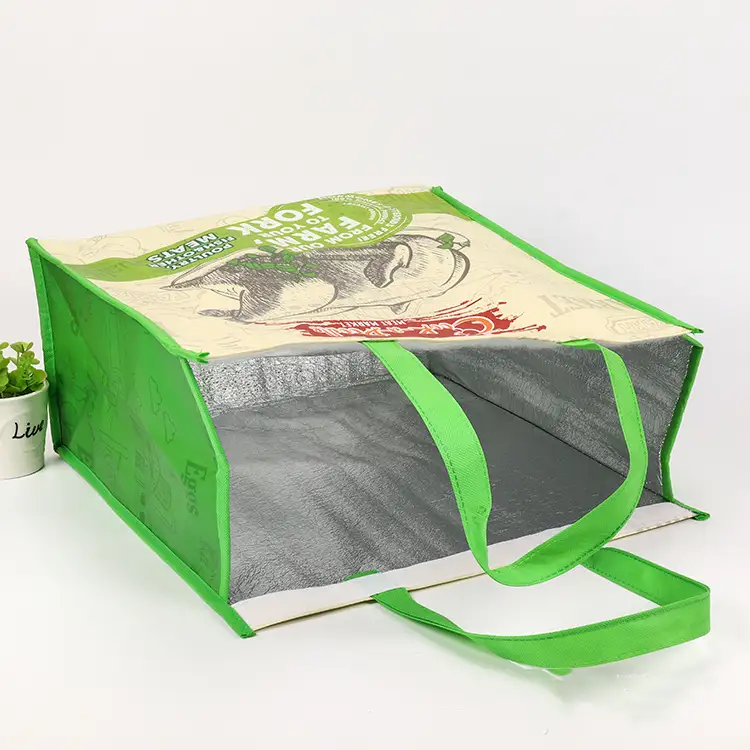 Reliable and Durable
Our aluminum foil insulated outer non-woven bag has been carefully designed and manufactured to ensure its reliability and durability. Whether it's carrying weight or enduring long-term use, our bags are capable of handling it. This reliability will ensure that your takeout food is safely delivered to customers.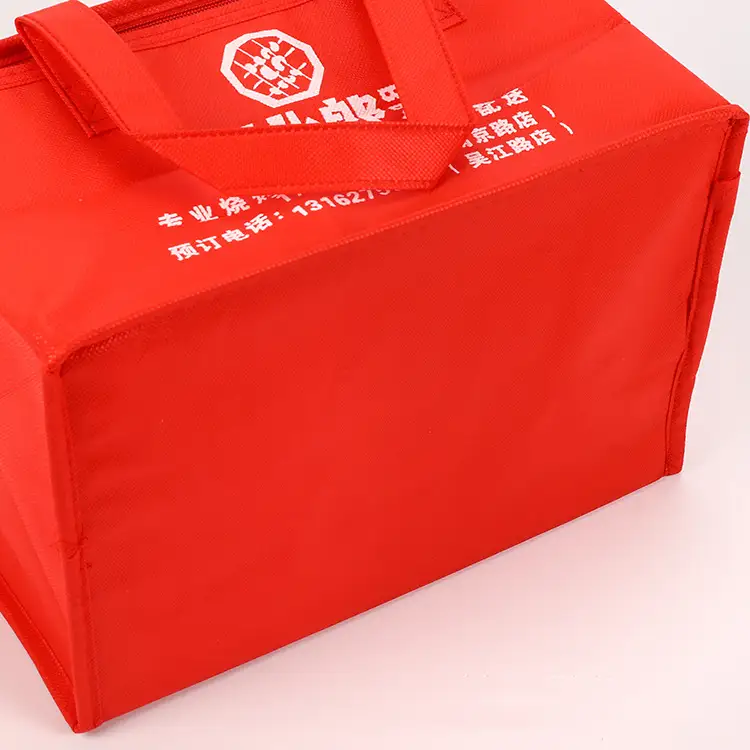 Environmental sustainability
We focus on environmental protection and are committed to sustainable development. Our aluminum foil non-woven insulation outer bag is made of renewable materials, which are both biodegradable and recyclable. By choosing our products, you can not only contribute to the environment, but also convey your commitment to environmental protection to your customers.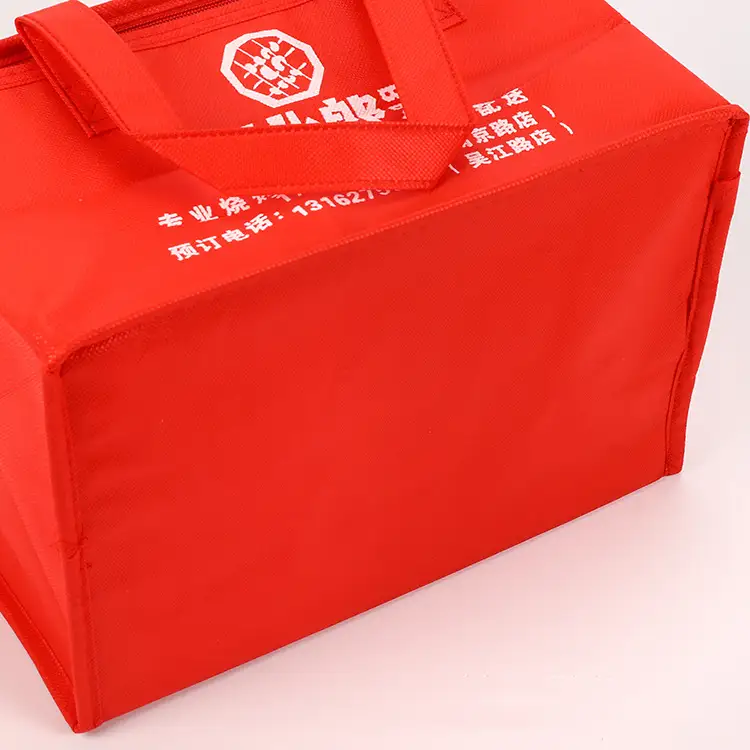 Maintaining freshness and temperature of food is crucial in the fiercely competitive delivery market. Our customized wholesale aluminum foil non-woven insulated outer bag will be the ideal choice for your delivery business. High quality materials, excellent insulation performance, personalized customization options, and reliable durability make our products a key factor in the success of our delivery business. Choose us to make your delivery brand stand out in the market and provide customers with an excellent delivery experience.